We're always working to infuse diversity and inclusion into everything we do at Comcast, whether that's through our employee resource groups, our community investments, or our products, and we're excited to be celebrating Hispanic Heritage Month with our Boston area employees and customers once again this year.
Here's some of the work we've done in local communities: Comcast has provided direct support for the last six years to IBA (Inquilinos Boricuas en Acción) Boston, which aims to empower individuals and families to improve their lives through high-quality education, technology and arts programs.  In September, Comcast provided the organization with a $10,000 grant to continue its digital literacy efforts and surprised IBA patrons with 30 laptops along with six months of Internet Essentials service in an effort to help close the digital divide.  Comcast has also been a longtime sponsor of an array of programs within the Latino community via its partnership with El Mundo Boston.  Examples include the annual Xfinity Family Latino Festival at Fenway Park as well as Latino Youth Recognition Day, which celebrates top-performing Latino students throughout the Boston area with on-field recognition at three Red Sox games each season.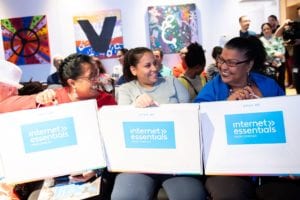 Additionally, Xfinity is honoring the Hispanic community with a collection of great content, customer stories, and more.
The biggest On Demand Latin event of the year is back: Freepass Latino is here from until October 6 with free access to a variety of movies, series and novelas on your TV and the Xfinity Stream mobile app and website. At home, just say "FreePass Latino" to your X1 Voice Remote to access Spanish content from multiple networks.
You can also watch Comcast Newsmakers' Hispanic Heritage Month segments online or On Demand. These clips feature conversations with community leaders on key issues including health care, political and economic empowerment, and the journey to citizenship.
Ready to explore all the great Hispanic Heritage Month content available on X1? Say "Latino" into your X1 Voice Remote— the world's first bilingual voice remote— to get started, and tune in all month long to celebrate the Hispanic community's accomplishments, achievements, and more with us.