Memorial Day is here and American flags are unfurling everywhere, ready for this special holiday of remembrance, plus the 4th of July, Labor Day, etc. But, has your flag seen better days? Our New England weather can certainly batter the red, white and blue – what to do?
We recently started a free flag replacement program in Greater Boston led by our employees who participate in the Veterans Network Employee Resource Group (ERG) known as VetNet. Our VetNet ERG participants are military veterans, active participants in the Reserves or family and other supporters of the military community.
Flags are replaced for local residents, nonprofits and small businesses, regardless of whether they are Comcast customers. In addition, the old flags are retired in accordance with military protocols by our veteran employees accustomed with those procedures who volunteered to be a part of this effort. We've termed these volunteers "flag ambassadors" and they're available to assist with flag replacement throughout the region.
In just a couple months, the small but mighty team of employee volunteers have replaced 36 American flags. One of the most memorable flag replacements so far resulted from an employee seeing a local TV news story about a family with a tattered flag. Our VetNet team sprang into action and quickly reached out to the family who happily accepted the opportunity to retire the old flag and receive a free replacement. The team properly folded the old flag so that the customer could honor the military service of the uncle who owned the flag originally, and remember him by keeping it on display on their fireplace mantle. The new flag is proudly flying outside the home as well. This is one of the many great stories we are hearing about the impact this program is having.
How does the flag replacement program work?
The program is available throughout the Greater Boston Region, which includes 300+ communities in eastern Massachusetts, New Hampshire and Maine. Our local workforce – especially our team of technicians – is regularly out and about in the communities we serve.
If an employee notices a worn out flag at a home or business, he or she shares the location with the flag replacement team who then contacts the individual or business to determine their interest in replacing the flag.
Our employees take pride in participating in this active effort in their communities and neighborhoods. The program is especially meaningful to our employees who have served our country. "As a Veteran, it's rewarding to work for a company that's invested in the community, especially when it comes to replacing worn flags," said Ed Clegg, Comcast technician in the Manchester, NH area.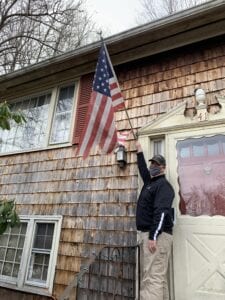 Our "flag ambassadors'' will continue to keep an eye out for worn flags and offer free flag replacement to local residents and businesses. Also feel free to ask your Greater Boston Region Comcast technician at your next service appointment or email marc_goodman@cable.comcast.com in our Public Relations office with your request.
We are proud of our company-wide commitment to the military, and how our employees embody this commitment year-round. To learn more about Comcast's support of the military, click here.