This is the first in a series focusing on Comcast employees who live and work on Cape Cod, where Comcast has proudly been offering our full suite of Xfinity and Comcast Business services powered by a best-in-class network since 2003.
Like everywhere else on glorious Cape Cod, summer 2021 has been bustling and busy at our five Xfinity retail stores in Falmouth, Sandwich, Hyannis, South Yarmouth and Orleans. We visited our colleagues there to ask them about their experiences serving our customers, and what they love about the Cape.
In the past year and a half, folks have flocked to the Cape to purchase or rent homes; seasonal residents came earlier and stayed longer to live and to work; and when summer arrived, so did the tourists, finally, to the delight of the business community.
And everyone was looking for the same things: salt air, sunshine, safety and sanctuary.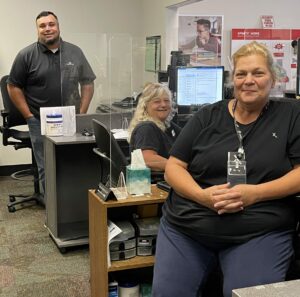 With so much happening in the world and so quickly, gone are the days when coming to the Cape meant unplugging. Customers want to stay connected with the Xfinity products and services they've always relied on, and customer service and retail sales representative Gabby K. from our Falmouth retail store at 205 Worcester Court, has been on the job for over 20 years ensuring just that.
"Our goal was to make sure people had what they needed to live, work and learn from home and be entertained, too,'' said Gabby, a resident of Falmouth who loves nature walks and seeing the Cape through the eyes of tourists. "We have a lot of customers we've known for years and it was good to see them, and great to meet the newcomers. They always teach me something new about the Cape as they discover it.''
Her teammate Michelle H., also a 20-year Comcast veteran who lives in Bourne, said her job allows her to learn, problem-solve and interact with people from all walks of life.
"The Cape is much more diverse than it used to be, and that's a beautiful thing," said Michelle. "I love to see who will walk through the doors and how we can make their day better by telling them how we can increase their Internet speeds or get them into our great Xfinity Mobile service where everyone saves money. A great day for me is when someone walks out happy, a new friend.''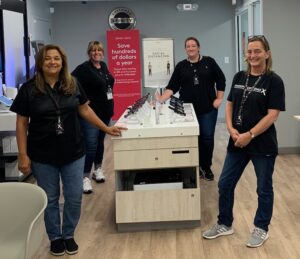 Over at the retail store at 10 Old Townhouse Road in South Yarmouth, sales representatives Leah D., Andrea O. and Shelley B. are discussing the generosity of their customers who regularly bring them treats from local eateries as an expression of their gratitude.
"People have been so patient and so kind, we need to say a public thank you to them. The goodies are over the top,'' said Shelley B. with a laugh. "We have not had a slow day here since Memorial Day. Customers are coming and staying – it's not just seasonal – and we're helping everyone get settled and get what they need, especially people who have been working from home. They're loving Xfinity Flex and Peacock, NBC's streaming service."
And, the South Yarmouth team said customers are also taking advantage of Xfinity Home, which allows them, via cameras and app, to monitor what's happening in and around their homes when they're not there. Or simply check in on the dog back at the house when the family is at the beach.
Area Retail Manager Lisa B., who has worked for Comcast for over 30 years, said it's always exciting to meet customers who have just moved to the Cape. Everyone in the retail stores is eager to share their favorite ice cream place (Sundae School in Dennis, says Lisa), or fried seafood shack (it's Kreme 'N Cone in Chatham – "the original!" she says) with visitors.
"All of us who work here are lifelong Cape Codders, pretty much,'' said Lisa, a Dennis native. "We are not only ambassadors for Comcast, we are also ambassadors for the Cape. And my advice to our newest residents is one word: Patience. The streets go dark at 8 p.m. and the traffic gets backed up. But guess what? Look around. You are in paradise. Take a walk on the beach – like ANY beach – and just enjoy. I don't think I ever take it for granted.''
Added Leah D: "We've had a lot of 'aha moments' in here, during the pandemic. People have shown us so much appreciation. They know we are always here to help them.''
In our next installment of this series, you'll meet our awesome teammates in the Sandwich and Orleans retail stores!
Top Xfinity tips
Our mobile apps are ready to go! For example, with Xfinity Stream, you can enjoy top networks and On Demand on the go, and stream or download your DVR recordings to watch even if you're on a plane or in the backseat.
Has it been a while since a technician has been to your home? An Xfinity tune-up may be in order to ensure you have the latest equipment to provide faster-than-a-Gig WiFi and access to top apps from Disney+ to Peacock for the biggest screens in the home.
Need to reach us wherever you are? Download the Xfinity My Account app, which makes it easy to troubleshoot and solve issues with a couple taps and eliminate hold time by scheduling a call from a Comcast representative if further support is needed.
Plus, with Xfinity Mobile, you can switch back and forth between By-the-Gig and Unlimited data plans on any line at any time throughout the month, maximizing your savings compared to other mobile services.
With Xfinity Home, you can use the app to remotely control your system, lighting and thermostats, and even keep tabs on the water tank!
Seasonal services
With summer coming to a close, we offer a variety of options to make it easy to stay connected to your seasonal home while you are away. For example, you can easily restore full services without a technician visit and keep your equipment in your home without having to return it by enrolling in a seasonal program. Learn more here.
Join our award-winning local workforce
We're always looking for talent! As an award-winning best place to work in Massachusetts since 2004, we not only provide comprehensive benefits but provide vast and varied opportunities with the support for employees to thrive. Check out https://jobs.comcast.com/ for the latest opportunities.