This is the second in a series focusing on Comcast employees who live and work on Cape Cod, where Comcast has proudly been offering our full suite of Xfinity and Comcast Business services powered by a best-in-class network since 2003.
It's Labor Day weekend! It's the last "official'' weekend of summer (☹), but our employees on Cape Cod know that this irresistible part of Massachusetts is full of fun activities and beautiful vistas year-round.  Still, there are folks who will be leaving the Cape until next year and, as always, we wish everyone safe travels and hope to see you next summer. Until then, we're offering a few observations and recommendations for newcomers or those looking forward to an extended stay, from our Teammates who work in our Orleans, Hyannis and Sandwich stores!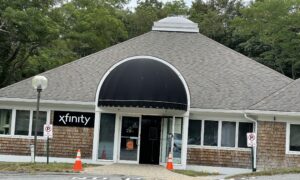 On a gray and steamy weekday just outside of downtown Orleans at the Xfinity store at 15 Locust Road, Chrissy F. and Christina T. (featured in the photo above) were busy helping customers in t-shirts and flip flops with a variety of needs, including upgrading and swapping out equipment, questions about Xfinity Home and Xfinity Mobile and faster internet speeds.
Because many homes on the Cape were – and still are –  traditionally used only in summer as seasonal getaways, some customers still have older equipment that used to be just fine for occasionally watching TV. But today, with more full-time residents who stay on long after Labor Day, equipment upgrades are a must-have to receive the fastest internet speeds and best video and streaming experiences.
"We do see old cable boxes coming through, which is great because we want our customers to have our newest and best equipment and products so they have the very best experiences with our services. Our X1 Voice Remote, for example, is such a differentiator'' said Christina, a Truro native.
"I love it when I tell people they simply can ask for what they want to watch with simple commands, rather than have to memorize a station number or spend time searching the guide. They light up!"
A Navy Veteran, Christina rides her black Harley-Davidson to work from her Provincetown home and is familiar to – and with – many of the customers who come through the doors.
"I have a big following,'' she laughed. "But we're seeing more and more new customers and that's also great. I love it when people come in and say, 'Oh, I have this or that service in Florida and nothing compares to Xfinity.'''
Chrissy is a new employee, having joined Christina in February. A Dennis native, Chrissy previously lived and worked in New York City as a makeup artist and she gleefully reports that Cher is "awesome and very cool.'' While that life was exciting, she said she returned to the Cape for the same reasons others do: its charm, beauty, and low-key vibe.
"I love that I'm helping my neighbors, and that local people can visit us to find a friendly face to work with them. And a great day is when they leave here happy and feeling great about us,'' she said. "We want to answer every question, solve every problem and make sure everyone knows the magic and value of our products and services.''
Like all Comcast employees on the Cape, Chrissy and Christina are wholly dedicated to local year-round residents as well as interacting with tourists and newcomers — and offering advice about what to do on the lower Cape is one of the joys of their jobs.
Christina quickly ticks off some must-dos: whale watching, spend the day at Herring Cove Beach, get some dollar oysters in P-town and climb the monument, sit on Commercial Street in P-town and people watch ("I saw Lance Bass last week,'' she said). And, most importantly, "just chill and have fun.''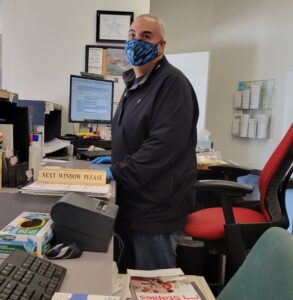 Over in Hyannis, the business and shopping Hub of the Cape, Rob H. is happily helping customers navigate their needs, and always takes the time to, "welcome someone into the Xfinity Mobile family and start saving them money!"  Rob is a five-year veteran of Comcast, has a huge smile visible even under his face mask, and lives over the bridge in Middleboro. He loves to visit the Cape when he's not working, head down to Race Point Beach in Provincetown, and one of his favorite treats is a lobster roll from the Raw Bar in Mashpee.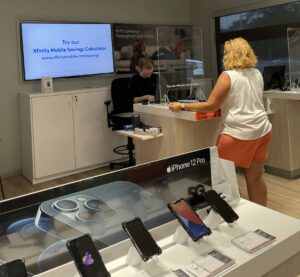 In Sandwich, Cape Cod's oldest town, where the motto is "Post Naufracia Portus'' (or "after so many shipwrecks, a haven"), — 16-year Comcast veteran John B. is an expert in all products and services and expertly delivers an excellent customer experience. A great day at work for him includes connecting with new customers and watching them leave happy with their services, feeling like they made a new friend along the way.  A Falmouth resident, John enjoys attending concerts and loves the Italian cuisine at LaCucina in Falmouth.
In addition to Orleans, Hyannis and Sandwich, there are Xfinity Stores in South Yarmouth and Falmouth (MEET THOSE EMPLOYEES here), in, Sandwich (290 Rt. 130, Unit 7), and in Hyannis. (11 Enterprise Road).
There are also Xfinity stores on the islands of Martha's Vineyard and Nantucket. In our next installment, we traverse Nantucket Sound by ferry to visit those locations and meet our dedicated teammates who serve those communities year-round.
Top Xfinity Tips No Matter the Season
Our mobile apps are ready to go! For example, with Xfinity Stream, you can enjoy top networks and On Demand on the go, and stream or download your DVR recordings to watch even if you're on a plane or in the backseat.
Has it been a while since a technician has been to your home? An Xfinity tune-up may be in order to ensure you have the latest equipment to provide faster than a Gig WiFi and access to top apps from Disney+ to Peacock for the biggest screens in the home.
Need to reach us wherever you are? Download the Xfinity My Account app, which makes it easy to troubleshoot and solve issues with a couple taps and eliminate hold time by scheduling a call from a Comcast representative if further support is needed.
Plus, with Xfinity Mobile, you can switch back and forth between By-the-Gig and Unlimited data plans on any line at any time throughout the month, maximizing your savings compared to other mobile services.
With Xfinity Home, you can use the app to remotely control your system, lighting and thermostats, and even keep tabs on the water tank!
Seasonal Services
With summer coming to a close, we offer a variety of options to make it easy to stay connected to your seasonal home while you are away. For example, you can easily restore full services without a technician visit and keep your equipment in your home without having to return it by enrolling in a seasonal program. Learn more here.
Join Our Award-Winning Local Workforce
We're always looking for talent!  As an award-winning best place to work in Massachusetts since 2004, we not only provide comprehensive benefits but provide vast and varied opportunities with the support for employees to thrive. Check out https://jobs.comcast.com/ for the latest opportunities.