This is the third installment in a series focusing on Comcast employees who live and work on Cape Cod, where Comcast has proudly been offering our full suite of Xfinity and Comcast Business services powered by a best-in-class network since 2003.
We sat down with Ben M., Network Supervisor on Cape Cod, to hear more about what he does for Comcast and how he makes an impact on our employees and our customers.  The success of our network hinges on three factors: strategic investment (including more than $3 billion in Massachusetts since 2011), continuous network innovation; and the diligent, ongoing work of network technicians like Ben.
Q: What is your current role and how long have you been with Comcast?
A: I've worked for Comcast for almost 20 years and currently serve as a Supervisor of Network Technicians on Cape Cod. My day begins in Harwich, but I could end up anywhere on the Cape or Martha's Vineyard on a given day. I especially enjoy being able to help my fellow Cape Cod residents stay connected to ensure that they're getting the best possible service each month.
Q: What is your favorite part about your job?
A: I've seen firsthand the benefits of continuous network investment, with regular internet speed increases along with tools and applications to evaluate the network infrastructure my team and I care for each day. I pride myself on being a hands-on leader and problem solver who still likes to roll up my sleeves and work on what we call "nodes," which provide connectivity to a certain subset of homes or businesses.
Q: Any reflection on the last 18 months, with more people than ever depending on our services as they work from home?
A: I'm full of pride with how our network performed on Cape Cod and throughout New England and our national footprint. I saw the change happen here, Memorial Day shifting to March in 2020 with the influx of new residents and the early arrival of seasonal Cape dwellers working remotely. Throughout the pandemic, we continued to deliver above-advertised speeds to customers across the country, including in areas most affected by COVID-19, as you can see in this report summing up our network performance in 2020.
Q: What is your favorite Xfinity product?
A: I'm a huge fan of the Xfinity Stream app! In case you haven't tried it, you can take all of your video content (favorite channels, On Demand or your DVR) on the go on your smart device. It's convenient for me to take it wherever I go and have a few minutes to unwind to enjoy one of my favorite shows from my DVR.
Q: What is a current initiative at Comcast that you are most excited about?
A: Comcast puts a lot of focus on the growth and development of our employees, with training programs to keep on top of the latest technologies such as next generation nodes.
Q: What's your go-to spot on Cape Cod?
A: Well, now that we're in the "off season" and the beach parking lots are empty, I can pop into one to enjoy a change of scenery with my lunch and catch up on a show on my Stream app.
Q: What do you like to do outside of your role in your free time?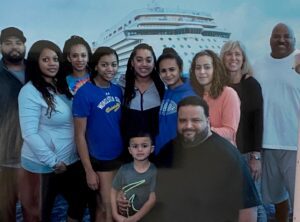 A: Other than enjoying the beach, I'm a family guy and value the simple things. I really enjoy being able to watch football games with my dad, wife and daughters (if they're around!) as our house is on the same street as my dad where three generations of my family have lived in Harwich.
And, when we go on vacation as a family in the winter it's always to somewhere warm!
For more on our Cape Cod workforce, read about our Retail teammates in Part 1: Falmouth and South Yarmouth and Part 2: Hyannis and Orleans.