Last May, when Steven, a Comcast technician, replaced the worn and frayed flag on Joe Cordo's front porch in Mashpee, Mr. Cordo was grateful for the gesture.
Mr. Cordo noted, "Thank you Comcast and Comcast flag replacement volunteers for the beautiful new flag! And, I'm especially thankful to those who sacrificed to make it possible to fly it and all it represents."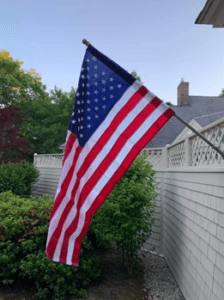 On Veterans Day we think of and thank Veterans everywhere, including many of our employees. Our company and employees support the military community in a number of ways, including Comcast's free flag replacement program available to Greater Boston area residents.
Local residents, nonprofits and small businesses can request replacement flags regardless of whether or not they are Comcast customers. Old flags are retired in accordance with military protocols by our veteran employees accustomed with those procedures who volunteered to be a part of this effort. We've termed these volunteers "flag ambassadors" and they're available to assist with flag replacement throughout the region.
This program is led by volunteer employees who participate in the Veterans Network Employee Resource Group (ERG) known as VetNet. Our VetNet ERG participants are military veterans, active participants in the Reserves or family and other supporters of the military community.
Since its local start in May 2021, the small but mighty team of Boston area employee volunteers have replaced 62 American flags. Recently, we replaced five flags on the South Shore following the October Nor'easter. One Norwell resident realized her flag was shredded after the storm. Fortunately, a Comcast technician had just completed a job across the street and provided her with a new flag. This is the latest great story we are hearing about the impact this program is having.
How does the flag replacement program work?
The program is available throughout the Greater Boston Region, which includes 300+ communities in eastern Massachusetts, New Hampshire and Maine. Our local workforce – especially our team of technicians – is regularly out and about in the communities we serve.
If an employee notices a worn out flag at a home or business, he or she shares the location with the flag replacement team who then contacts the individual or business to determine their interest in replacing the flag.
Our employees take pride in participating in this active effort in their communities and neighborhoods. Nick, Technical Operations Supervisor in the Manchester, NH area said, "While I didn't serve, I've always appreciated what our veterans have done for us. I also value what the American flag stands for. Replacing old flags makes me feel like I'm making a difference for people that fly those flags in honor of our veterans and our country."
Our "flag ambassadors'' will continue to keep an eye out for worn flags and offer free flag replacement to local residents and businesses. Also feel free to ask your Greater Boston Region Comcast technician at your next service appointment or email marc_goodman@cable.comcast.com in our Public Relations office with your request.
We are proud of our company-wide commitment to the military, and how our employees embody this commitment year-round. To learn more about Comcast's support of the military, click here.