Our employees are at the heart of everything we do here at Comcast in Greater Boston – from providing a best-in-class customer experience, to monitoring and managing our network, to delivering the products and services you need to stay connected, entertained and informed.
We are proud to have diverse, dedicated leaders and team members playing pivotal roles in every aspect of our business, and we continue to adapt to the needs of our workforce. It has led us to be ranked in the top ten on DiversityInc's 2021 Top Companies for Veterans list, recognized on Cablefax's 2021 Diversity List and more.
We sat down with Carlos A., Senior Director of Tech Quality for Comcast's Greater Boston Region, to hear more about what he does at Comcast and how he makes an impact on our employees and our customers. Marking National Veteran and Military Families Month, Carlos also reflects on being a veteran after 20 years of service in the Army and National Guard.
Q: What is your current role and how long have you been with Comcast?
A: I've worked for Comcast for 25 years and currently serve as a Director of Technical Operations in the Greater Boston Region. My day usually begins in Manchester, NH, but I could end up anywhere in the Boston area on a given day as I often check in on our local teams working to serve our customers.
Q: What is your favorite part about your job?
A: Collaboration and teamwork between multiple departments – especially technical operations, dispatch (who direct our technicians where to go) and network technicians among others. For example, when there's a significant storm, multiple departments work together to ensure that not only our technicians are staged and prepped with the right equipment in strategic locations but that we work in tandem with local power companies to quickly and safely restore services and address any customer needs.
Q: How has your military service helped shape your career?
A: I credit my military training for keeping me mission focused and always able to 'adapt, improvise and overcome' with the help of a team. Just like there's no such thing as a one person Army…it takes teamwork and collaboration to succeed and produce results.
Q: Comcast has long focused on the military community and purposefully hiring thousands of veterans. Any reflection on that?
A: It starts with gratitude that I'm a part of the Comcast team and a member of our Veterans Network Employee Resource Group (ERG). Not only did I serve, but I have two sons currently deployed with the US Air Force. So, I'm not only proud about my service but how the company helps employees who serve in the Guard or Reserves, especially keeping their pay and benefits going to help their families while they're away serving our country. And, I always keep an eye out for flags in need of replacement when I'm out and about thanks to our ongoing flag replacement program efforts.
Q: What is a current initiative at Comcast that you are most excited about?
A: Comcast invests a lot in tools and applications for our employees, which can help transform the customer experience. For example, we've seen great results with a new app our technicians use to test in-home equipment, which helps us ensure that every aspect of the customer's service from WiFi to set-top box performance is optimal.
Q: What is your favorite Xfinity product?
A: I'm a huge fan of our faster-than-Gig Xfinity Internet because I know I can rely on it to power my family's streaming habits and demands. I also depend on the Xfinity Voice Remote to find what I want to watch quickly and easily on any channel or app on X1. I guess it's a tie!
Q: What's your go-to spot in the Nashua area?
A: Well, I enjoy going out to eat with my wife. And, any outside time I can get – especially in places like Mine Falls Park in Nashua – is always welcomed too.
Q: What do you like to do outside of your role in your free time?
A: I enjoy spending time with my family and working on my cars. I'm always in search of that next car to work on (that classic or muscle car vibe)! Our family time involves hopping on our ATVs or dirt bikes and enjoying the great trails offered in the Granite State (especially in the North Conway area).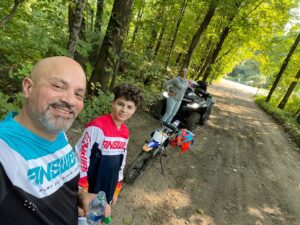 To meet more members of our Greater Boston team, read about Mo and Rachel, and stay tuned for additional faces coming soon!