Comcast today announced the latest milestone in its ongoing expansion of its smart, fast and reliable fiber-based network in the City of Laconia and the Town of Gilford, delivering its full suite of services to nearly 8,500 homes and businesses, including residential broadband speeds up to 1.2 gigabits per second (Gbps) and business speeds up to 100 Gbps. The company plans to complete its expansion in these areas by the end of 2022.
"Our dedicated network technicians and customer support employees continue to make great progress in expanding our smart, fast, and reliable fiber-based network in Laconia and Gilford," said Trevor Arp, Senior Vice President for Comcast's Greater Boston Region, which includes New Hampshire. "We are looking forward to connecting more customers to our unbeatable internet from Xfinity and Comcast Business products and services, including faster-than-Gig WiFi, Xfinity Mobile and X1."
Mountain View Apartments, located in Laconia, is now offering Xfinity services to its residents as part of the current network expansion. "Mountain View Apartments offers residents a variety of amenities and we are thrilled to partner with Comcast to bring even more choice and value to our residents through Xfinity services with a reliable network and fast internet speeds," said Tony Felch, Property Manager at Mountain View Apartments.
As work continues to progress, Comcast will keep Laconia and Gilford residents and businesses informed about when services will be available at their addresses. The company also offers a dedicated site, https://www.welcome2xfinity.com/, for interested residents to learn more about products and services and to sign up for updates.
In addition, the company recently opened a new Xfinity Store in Gilford's Lake Shore Marketplace located at 1458 Lakeshore Road. The experts at the Xfinity Store can help with product demonstrations and any questions consumers may have about Gigabit internet service, unique home WiFi control capabilities with xFi, the award-winning Xfinity X1 video platform, Xfinity Flex for streamers, Xfinity Home, Xfinity Voice and Xfinity Mobile. They can also help local businesses in scheduling an informational meeting with the Comcast Business sales team, which can describe its popular Security Edge service or how to get connected at Ethernet network speeds up to 100 Gbps.
Prospective customers in eligible areas can also call 1-800-XFINITY to sign up for service once their street has been completed, ask about the Affordable Connectivity Program, which provides $30 per month to eligible families for internet service, or take advantage of the free inclusion of Peacock, NBCUniversal's streaming service.
Comcast also offers Internet Essentials, the nation's largest and most comprehensive broadband adoption program, for $9.95 per month to provide low-cost broadband service, digital literacy training and discounted computers for low-income families.
Comcast's recent community partnerships in the Lakes Region includes the installation of a Lift Zone – free WiFi service to promote learning in community spaces – at the Boys & Girls Club of the Lakes Region in Laconia. This Lift Zone is part of Project UP, Comcast's comprehensive, 10-year, $1 billion commitment to help build a future of unlimited possibilities and the continuation of the company's long history of giving back to communities where it provides service and where its employees live and work.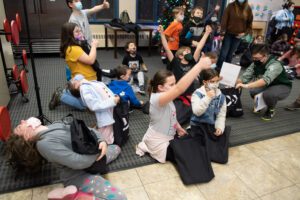 "The incredible generosity from Comcast has truly changed the culture of the Club and the programming we are able to provide," said James Holmes, Site Director of the Lakes Region Boys & Girls Club. "Thanks to Comcast, we now have a robust WiFi network throughout the Club for our members to safely and easily connect to speedy and reliable WiFi. We also received new laptop computers and tablets for the Club which we are using to educate our members on digital literacy, internet safety and various technology-based programs that were previously out of our reach."