Comcast is excited to announce the opening of a new 3,334-square-foot Xfinity Store in Portsmouth, NH at 1600 Woodbury Avenue in Durgin Square.
The store's interactive design provides an immersive destination for visitors to see and experience the complete line of Xfinity products and services – from smart home security solutions to Xfinity Mobile and unbeatable internet, which is capable of delivering speeds faster than 1 Gbps.
"We have a long-standing commitment to Portsmouth and we're thrilled to be expanding our retail presence in the New Hampshire Seacoast area to deliver an excellent customer experience for residents," said Mike Iannetta, Vice President of Sales & Marketing for Comcast's Greater Boston Region. "Our new store in Durgin Square expands our ability to meet customers where it's most convenient and provides an interactive space where residents can demo the latest tech products and connect with a team of experts about services that best fit their needs."
In addition to product demonstrations, customers can also engage with a dedicated team of highly trained and knowledgeable sales consultants to learn more about their current services or devices, see firsthand how Xfinity apps make it easy for them to manage their account, sign up for all Xfinity services, address any service needs, and return or acquire equipment.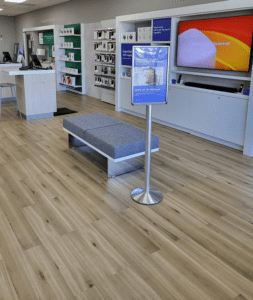 Residents visiting Xfinity stores can also speak with sales consultants about the federal government's Affordable Connectivity Program (ACP), which provides eligible low-income residents with $30 per month towards their Internet or mobile bills – including all Xfinity Internet plans, Xfinity Mobile and Internet Essentials. To learn more about eligibility, how to apply and available plans, go to www.xfinity.com/acp.
The new Xfinity Store, is open seven days a week and located at 1600 Woodbury Avenue. For directions and store hours, click here. Customers can also go online to www.xfinity.com/support, click "Visit an Xfinity Store" and make an appointment.
Across New Hampshire, Comcast also operates Xfinity stores in Dover, Gilford, Nashua, Manchester, Salem, Seabrook and West Lebanon.