Comcast announced the opening of its latest "Lift Zone" in Greater Boston at the Bethel Institute for Community Development (BICD), located on the Bethel AME Church campus, in Jamaica Plain. Lift Zones provide free, high-speed WiFi to help connect local families and community members to the Internet so they can fully participate in educational opportunities and the digital economy. Comcast has installed over 1,000 WiFi-connected "Lift Zones" in community centers across the country – with 76 located in the Greater Boston Region, including 36 in the City of Boston – as part of Project UP, a comprehensive initiative to advance digital equity and help build a future of unlimited possibilities.
"The Bethel Institute at the Bethel AME Church is the perfect location for a Lift Zone, as it has been a community-empowering fixture in Boston for years. It also shares our commitment to help bridge the digital divide by providing valuable resources needed to succeed in a digital world," said Tim Kelly, Vice President of Government Affairs for Comcast's Greater Boston Region. "We're so proud to partner with the Institute to connect youth and families to the Internet and, ultimately, to what's fun, educational and meaningful in their lives."
To commemorate the new Lift Zone opening, Comcast also donated seven gaming PCs, including headsets and preloaded educational games, to the Institute for its youth programs. The Institute saw the Lift Zone as an opportunity to offer students and their families a space to help them connect, discover new things and share their passions for gaming.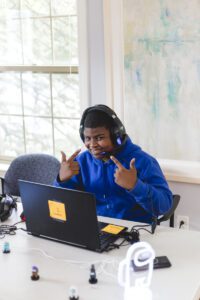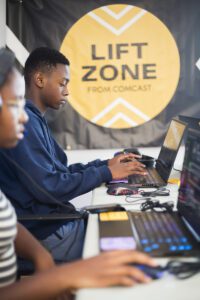 "We view this as a safe place where families, children and community members can come together for a great educational experience and a fun time," said Kalya Hamlett Murray, Executive Director of the Bethel Institute. "Thanks to Comcast's generous support, the incredibly fast Wi-Fi and gaming PCs have leveled up the experiences and programs we're able to provide to the Bethel community."
Check out more from the celebration of the opening of the Lift Zone here:
Rev. Ray A. Hammond, M.D., M.A., and Rev. Gloria White-Hammond, M.D., M.Div. founded Bethel AME Church in 1988 and started a church community with a mission to make a difference in Boston, throughout America and around the world by addressing the needs of the hungry, naked, sick or imprisoned whether they be troubled in mind, body or spirit. Later, they founded the Bethel Institute in April 2009 to offer community-based academic and social service programs for Boston's high risk-youth and families. Today, Bethel serves more than 4,200 people annually in its congregation and offers a variety of academic enrichment programs at the Institute.
As part of Project UP, Comcast NBCUniversal has committed $1 billion over the next 10 years to reach tens of millions of people through programs and community partnerships that connect people to the Internet, advance economic mobility, and open doors for the next generation of innovators, entrepreneurs, storytellers, and creators. For additional information on Project UP and our other digital equity initiatives, including Internet Essentials, Lift Zones and more, visit corporate.comcast.com/impact/project-up.
To find a Lift Zone near you, please visit: https://internetessentials.com/learningsearchpage.