Comcast announced it has awarded $10,000 to the Boston Centers for Youth & Families (BCYF) Mildred Avenue Community Center to help the Center continue providing resources and programs to its members. This grant was part of a day of activities through Team UP – Comcast's national volunteerism program. Volunteers from Comcast and the Center participated youth-focused activities including practicing career advancement skills through speed networking, painting a chalkboard wall and creating t-shirts through the Centers' WiFi-controlled T-shirt press. The Center is powered by a Comcast Lift Zone, which provides free, high-speed WiFi to help members connect to the Internet so they can fully participate in educational opportunities and the digital economy.
"We're grateful for Comcast's support of our community centers," said Marta E. Rivera, Commissioner of for Boston Centers for Youth & Families. "Today's Team UP event was a lot of fun while teaching our staff and our center visitors new skills such as practicing how to network for career advancement."
Building on Comcast's long history of community service, Team UP is an always-on, 365-days-a -year effort that provides opportunities for Comcast employees to further their involvement in local communities. The name Team UP underscores that the company's work has the greatest reach when employees work together. It also aligns with Project UP, Comcast's 10-year, $1 billion commitment to build a future of unlimited possibilities through advancing digital equity and economic mobility opportunities.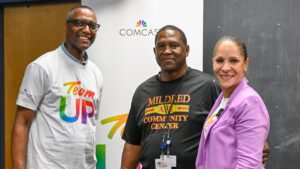 In tandem with the Team UP projects, BCYF also hosted a family fun festival outside of the Center where families were able to learn more about the federal government's Affordable Connectivity Program (ACP), which provides eligible low-income households with a credit of up to $30 per month ($75 per month on Tribal lands) toward their Internet and/or mobile service. Thanks to ACP, eligible Comcast customers can get home Internet through Comcast's Internet Essentials or Internet Essentials Plus at no cost once the federal credit is applied. Internet Essentials customers can also add a line of unlimited 5G cellular data ($45) through Xfinity Mobile for as little as $24.95/month after the ACP benefit is applied.
"Employee volunteerism has always been an integral component of our community impact approach at Comcast, and we are thrilled to partner with Boston Centers for Youth & Families to demonstrate that commitment locally," said Loren Hudson, Senior Vice President and Chief Diversity Officer, Comcast Cable. "BCYF has also been a vital partner in efforts to raise awareness of and drive sign-ups for ACP. Today also featured our latest ACP event in the City of Boston with more than 150 community members in attendance, which will help more eligible individuals connect to the Internet."
Comcast has supported Boston Centers for Youth & Families since 2003. In 2021, the company launched Lift Zones at 29 of BCYF's locations, including BCYF Mildred Avenue, helping to connect local students, families and community members to the Internet so they can fully participate in educational opportunities and the digital economy.
Comcast's commitment to community service has been deeply embedded in the company's DNA for nearly 60 years. Team UP offers Comcast employees year-round opportunities to get involved, whether through in-person or virtual volunteerism, serving as a nonprofit board member, making a charitable donation or supporting the company's expansive partner network.