Students, we're excited to be welcoming you back to colleges and universities in the area this fall. If you're getting ready to live off campus, we know how important it is for you to have the essentials – including a great Internet connection, your favorite entertainment and a flexible mobile provider. Here are some tips as you sign up for services:
Choose a Concentration in Connectivity
Xfinity Internet has exclusive offers for students living off campus to help keep you connected for those late-night study sessions, videogame brain breaks and video calls with friends and family back home.
As an Xfinity Internet customer, you'll also be able to enjoy Xfinity Flex. Use Flex, our 4K streaming device, and sign in to your streaming services to find your favorite movies and shows, alongside a curated selection of free entertainment, all easy to search with our award-winning Xfinity Voice Remote.
And Xfinity Internet customers can also sign up for Xfinity Mobile. With a reliable network, competitive pricing and flexibility that puts customers in control, it's clear to see why millions have made the switch. Plans start at $15 a month, and you can bring your phone and number with you. Need more data for when you're on the go? Changing plans is simple and you can even do it in the middle of your billing cycle.
Get an 'A' in Affordability
You may also qualify for the federal government's Affordable Connectivity Program (ACP), which provides eligible low-income households with a credit of up to $30 per month ($75 per month on Tribal lands) toward their Internet and/or mobile service. Thanks to ACP, eligible Comcast customers can get home Internet through Comcast's Internet Essentials or Internet Essentials Plus at no cost once the federal credit is applied. Internet Essentials customers can also add a line of unlimited 5G cellular data ($45) through Xfinity Mobile for as little as $24.95/month after the ACP benefit is applied. To qualify, you must meet the program's eligibility criteria which can be found here.
Additionally, all Federal Pell Grant recipients in our service areas are eligible for Internet Essentials, enabling even more students to stay connected as they continue to pursue degrees at colleges, universities and technical schools.
Learn from Our Experts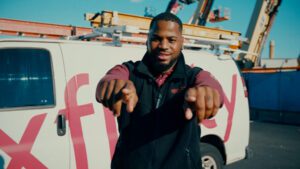 Our team member Tyrone, has been with us for nearly a decade of back-to-school seasons, formerly as a technician doing installations and now as a Network Maintenance Supervisor, working with his team to ensure that our network delivers the speed and reliability students need. "Students love the fact that as soon as their futon hits the floor they can quickly connect to the Xfinity 10G Network in their apartment or on the go with Xfinity WiFi hotspots throughout our service area," said Tyrone. "Our teams are working quickly throughout the area to get students installed and connected to what matters to them most."
To learn more about what we offer and how to sign up, find us in-person at local events on and near college campuses throughout Massachusetts and New Hampshire.
You can also visit us online at www.xfinity.com/student, call 1-800-XFINITY (1-800-934-6489) or stop by one of our local Xfinity Stores. We're looking forward to helping you make this school year the best one yet!